A world-first new special school has opened its doors to students for the very first time.
Trent View College, situated at West Common Lane, Scunthorpe, is a new post-16 college for students with special educational needs designed to remove barriers to learning and help young people develop important life and employability skills and prepare them for adulthood.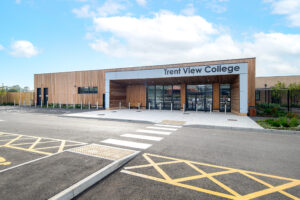 Part of Wellspring Academy Trust, the new purpose-built £12 million school provides state-of-the-art teaching and learning facilities for the 60 students who will attend. The building is testament to modern design, accessibility and inclusivity in education, and has been carefully designed to meet the learning objectives of those who will attend. A large commercial kitchen space will be used for students to both learn catering skills and prepare the meals for their fellow classmates, whilst a vehicle workshop will allow students to learn about car maintenance and repairs. The building also comprises a cafe which will serve the public and enable students to develop their hospitality skills. Complementing the vocational areas are carefully considered therapeutic spaces to provide support and intervention for young people with more complex needs. These include a hydrotherapy pool, rebound area and fully immersive sensory rooms. The combination of these facilities will support the model of social inclusion allowing all students to work together, providing a space to meet their individual needs and aspirations.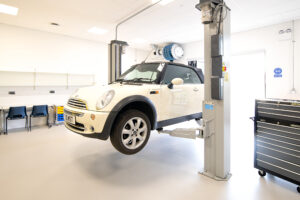 As well as offering the very best in inclusive post-16 learning facilities, the building itself is a world-first when it comes to environmental impact. Designed by HLM Architects and built by Morgan Sindall Construction , the school meets strict Passivhaus standards around energy efficiency and environmental impact. The inclusion of a heat-intensive hydrotherapy pool in the build makes Trent View College the first SEND school with a hydrotherapy pool in the world to achieve Passivhaus standards.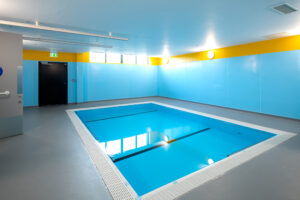 Sarah Parker, Principal at Trent View College, said: "Today is an incredibly exciting moment for the local community and for everyone who has been involved in the efforts to bring this wonderful new school to Scunthorpe. We now have this amazing new building and talented team in place to provide a nurturing space where our students can acquire vital life skills, engage in meaningful work and develop their routes toward independence. It will be life changing for the students attending.
"As well as world-class facilities for our students, this new school will also be a fantastic resource available for use by the wider community. We are very much looking forward to putting Trent View College at the heart of the Scunthorpe community and working closely with businesses and partners across the area."
Mark Wilson, CEO at Wellspring Academy Trust, added: "This is the culmination of years of hard work, dedication and creative thinking from all partners involved in this project, and today is a truly proud moment for us all. At Wellspring, we prioritise inclusivity, forward-thinking, community involvement and a desire to always do things better. Trent View College epitomises that approach. The innovation and ambition behind this project has set the standard for what SEND schools can, and should, be. I look forward to watching the impact of Trent View College on its students and the Scunthorpe community over the coming months and years."
Ben Hall, Area Director at Morgan Sindall Construction – Yorkshire, said: "At Morgan Sindall we are committed to equal opportunities and believe that everyone should be given the best possible chance at achieving their goals. It's therefore a privilege to have contributed to the skills development of young people in the local community with special educational needs through the creation of Trent View College.
"It's incredibly positive to see more demand for state-of-the-art facilities such as Trent View College. It indicates a change in ideals surrounding our education system and understanding of how we encourage the best out of everyone. Collaboration has been crucial to this project, and the support we've had from the Wellspring Academy Trust and HLM has given us the scope to apply our expertise in delivering this fantastic educational environment. Through the deployment of our Intelligent Solutions approach we were able to help this landmark college achieve Passivhaus accreditation.
"We look forward to continuing our relationship with the Wellspring Academy Trust and look forward to seeing the impact of its work – and of Trent View College – in the near future."
Catherine Ward, Associate & SEN Lead at HLM Architects, added: "HLM are incredibly proud to have been involved in the design and delivery of this unique special school. The new building will not only provide much needed school places and specialist facilities for post 16 students with SEND in North Lincolnshire but, also provide numerous benefits offered by Passivhaus design including; an energy efficient, sustainable, high performing building; lowered running cost; and a comfortable internal environment improving health and wellbeing of students and staff. The success of the design has been achieved through a collaborative process involving the Trust and DfE and provides a contemporary, exemplary sustainable school which meets the very specialist needs of the building users."
Trent View College is a fully inclusive post-16 college, where individual differences are celebrated and aspirations are supported. Its aim is to develop inquisitive, aspirational and resilient young people who are fully equipped to engage and contribute to their own communities.